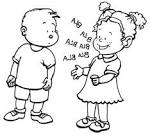 Junior Infants
 I love being in big school just like my big brother, it's so exciting. It is great fun playing with so many new friends. The best thing is that I get to wear a skirt or dress most days & don't have to wear trousers! My teacher is the best because she teaches us lots of new songs & dances. She's funny & kind too!
S in Ms. Matthews' Class
Senior Infants
Waiting for my new school:I wonder when my new school will be ready? I watch the builders everyday and wish they'd hurry up! I can't wait to see my new classroom & where we'll do P.E?I hope it will be ready soon.
S (Age 5) in Ms Tierney's Class
First Class
The Match: Once there was a soccer match. It was a really popular match. Everybody wanted to go to it. It was the Final. The teams were Liverpool & Man Utd. Man Utd were winning 5-0 but in the second half Liverpool scored 5 goals. It went onto penalties and Liverpool won!The End.
O (Age 7) in Ms Faherty's Class
Friends : My teacher is great. She noticed that some of my class were playing alone and decided to create "Friendly Fours".   Every day my teacher would separate us into different groups of four and we would then have to play with that group in yard. This was great because you make more friends and no one in my class plays alone anymore. I started Colmcilles in Senior Infants and I was so nervous because I knew no one. Everyone in my class was so nice to me that soon I forgot I was the new boy. I love school and going in to see my friends because we have a lot of fun every day.
JD
I love First Class: They do not give us too much work (the work is not too hard), It is very fun. We make cool art things. I love the schools Ceili's. They give us nice school breaks. I love Ms. Carr and first class. First Class Yay!
E (Age 7) in Ms. Carr's Class
Second Class
1st Confession: I loved my 1st Confession night, it was very exciting to be in the church at night and with all my class. The best bit was the singing and going up to the altar and chatting with the Priest. When I came back to my seat I told my Mum that it was great because now I felt lighter. My sister was a little noisy in the church but it was past her bed time and she fell asleep in the car on the way home. We had choc cake after our dinner before we went over to the Church as a celebration and I got to pick the dinner because Mum said it was my special evening – I loved it.
M (Age 8)
Hi everybody I am aged 8. I am in second class and my teachers name is Ms Boland. She is a great teacher and very good at art.   I like second class because we get to do joint writing and its really good fun. In Second class I am also learning how to read the clock and tell the time which I can do now. We get to do a lot more homework which I like and we learn a lot more as well. This year is a special year because on May 11th I am making my First Holy Communion and last week I made my First Confession. That was a great evening and had to bring with me to the church my baptism candle I got to light it and said my prayers with all my friends and family and the priests. I was not afraid and just went to one of the priest and sat with him and told my sins. He was very nice to me and then I went back and sat down with my family. I went shopping with my mam a few weeks ago to get my dress for my Communion. It was a great day out and I got everything in the one shop. I got it in the Little Sisters shop in Tallaght and the girls where very nice. I got my dress, shoes, veil, gloves. bag ,umbrella and a tiara and even my socks. I am having my Communion party in my house as I have a lot of family coming over from Scotland to be with me on the day. Will write to you all again to let you all now how my Communion goes bye for now. Bye for now K!
Third Class: Science in third class is great because you get to do more experiments. One experiment we are doing at the moment is called the "Magic Bucket".   The object of this experiment is to find out how the bucket works because no matter what liquid you pour into the bucket it always turn to water.   We are split into groups and then between us we have to figure out how it works. The extra school activities are great. There is a lot to choose from music, sport, lego club, reading club, there is something for everyone. This year the school wanted to get its fifth green flag. The subject was biodiversity and two representatives from each third class and the house captains formed the committee. The committees job was to inform the rest of the school about biodiversity and all the school got involved some classes mapped our local habitats, others adopted trees or investigated our native animals. There was a "Biodiversity Animal Park" in the third class corridor.The school was successful and got their fifth green flag. The senior school is fun all the activities and the teachers and staff make it really interesting. I never dread going to school , I really enjoy it.
SD
Sixth Class
Secondary school is starting, what will I do, But that wasn't me, That was you, The teachers were fun and friendly too,But now I think it's really cool to move on to secondary school
H in Mr. Ruddy's Class