This week I decided to focus on Jamie Oliver's inspiration for family friendly food. As a chef I think Jamie Oliver is great.  His style of cooking is laid back and he is very aware how important it is for kids to eat right.  I have tried some of his recipes in the past and they have always been a big hit. He does also make things look easy enough to cook, so that works for me!


Breakfast popovers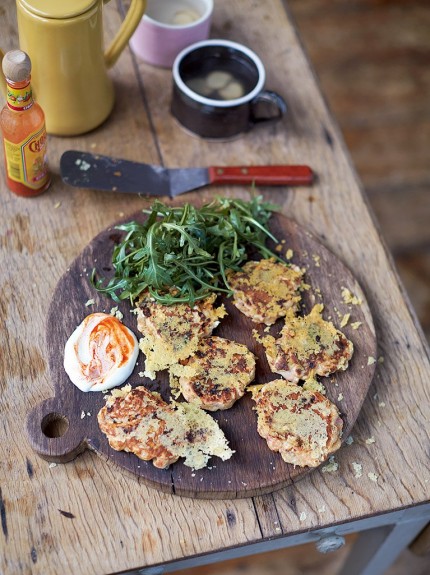 CHEESE, HAM & TOMATO
---
Ingredients
1 heaped tablespoon wholemeal self-raising flour
1 large free-range egg
2 heaped tablespoons cottage cheese
1 slice of quality smoked ham
1 ripe plum tomato
2 chestnut mushrooms
15 g Parmesan cheese
hot chilli sauce
2 tablespoons natural yoghurt
2 handfuls of rocket
½ a lemon
---
Method
Place the flour in a bowl and beat well with the egg and cottage cheese. Finely chop the ham, tomato and mushrooms, and stir through the mixture with a good pinch of sea salt and black pepper. Put a large non-stick frying pan on a medium-low heat. Once hot, put heaped spoonfuls of the mixture into the pan to give you six popovers. Leave them to get nicely golden for a few minutes, then flip over and gently flatten to 1cm thick with a palette knife.
Once golden on both sides, remove the popovers from the pan for a moment, then turn the heat off. Finely grate the Parmesan into the pan to melt. Place the popovers on top, wait for the Parmesan to sizzle and go golden from the residual heat of the pan, then use your palette knife to gently push the cheese towards each popover. Once the crispy popovers can be easily prised away from the pan with your palette knife, bang them out on to a board.
Swirl some chilli sauce through the yoghurt, toss the rocket in a squeeze of lemon juice and serve both on the side, then enjoy!
---
Ingredients
1 clove of garlic
2 sticks of celery
400 g broccoli
½ a bunch of fresh mint
olive oil
1 litre organic chicken or vegetable stock
ricotta cheese
---
Method
Peel and finely chop the garlic. Trim and roughly chop the celery and broccoli.
Pick the mint leaves, then finely chop most of them, saving a few baby leaves to garnish.
Heat a splash of oil in a pan, then soften the garlic and celery for about 2 to 3 minutes, then add the broccoli and stock.
Continue cooking for another 5 minutes, then blitz with a handful of mint in a food processor.
Season and serve, then crumble over the ricotta and scatter with the reserved mint leaves.
---
Ham & leek quiche
"Cutting out rich pastry cuts the calories. Here we've used filo, which saves on fat but still tastes great. To get the quiche out in one piece, take care when layering your filo, and leave it to cool in the tin. "
---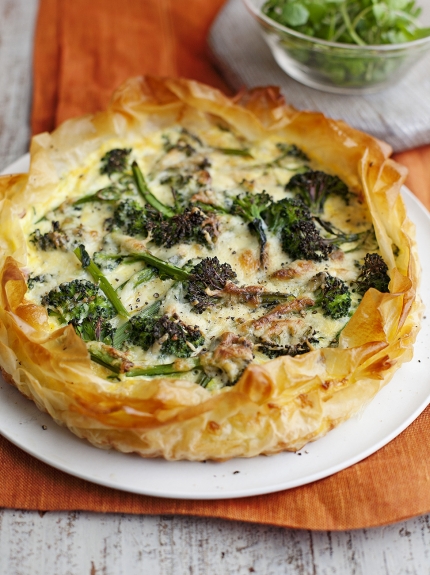 Cooks In 
1H 10M plus cooling
Difficulty  
Not too tricky
---
Ingredients
2 leeks
1 shallot
8 sprigs of fresh thyme
60 g higher-welfare smoked ham
10 g unsalted butter
200 g sprouting broccoli
1 tablespoon olive oil
3-4 sheets of filo pastry , (170g)
3 free-range eggs
300 ml semi-skimmed milk
75 g strong mature Cheddar
---
Method
Preheat the oven to 180ºC/gas 4.
Trim and finely slice the leeks, peel and finely slice the shallot and pick the thyme leaves. Roughly chop the ham.
Melt the butter in a pan and sauté the leeks and shallot with half the thyme leaves for 5 minutes, until soft but not coloured – add a splash of water if it starts to stick. Set aside.
Cut the broccoli stalks into 3cm lengths and slice the larger florets in half. Blanch in boiling salted water for about 3 minutes, then drain well.
Lightly brush a 26cm round quiche tin with a little of the oil, then drape a layer of filo pastry over it, very gently pressing it into the corners, leaving a few centimetres overhanging.
Brush the filo with a little more oil, scatter over some of the remaining thyme leaves and layer another piece of filo on top. Repeat layering the oil, thyme and filo until you have a fully lined quiche base – around 4 filo sheets. Bake the case in the oven for 3 to 5 minutes, until just starting to colour.
Stir the broccoli and smoked ham through the leek mixture, then spoon the filling over the pastry base.
Beat the eggs and milk with a pinch of black pepper, then grate in ¾ of the cheese. Pour it over the veg and ham, grate over the rest of the cheese, then place it on a baking tray and bake for 25 to 30 minutes, or until cooked through.
Remove from the oven and leave to stand for 15 minutes before serving with a green salad.
---
Gluten-free oat & raisin cookies
DELICIOUSLY CRUNCHY
---
"Everyone loves a good biscuit to dunk in their tea, and you just can't beat the homemade variety "
---
Ingredients
100 g unsalted butter
100 g golden caster sugar
125 g dark brown soft sugar
1 large free-range egg
60 ml buttermilk
200 g gluten-free plain flour
1 teaspoon bicarbonate of soda
100 g raisins
200 g gluten-free porridge oats
1 teaspoon ground cinnamon
---
Method
Preheat the oven to 180ºC/350ºF/gas 4. Line two baking trays with greaseproof paper, then set aside.
Melt the butter in a pan over a low heat. Combine the sugars in a large bowl, pour in the melted butter and stir to combine. Beat the egg in a separate bowl, then stir into the mixture with the buttermilk. Sieve in the flour and bicarbonate of soda and fold through, then stir in the remaining ingredients.
Place heaped tablespoons of the mixture onto the prepared tray, flattening them slightly with your fingers and making sure you leave a 4cm gap between each. Place in the hot oven for around 14 minutes, or until golden and crisp.
Leave to cool for 5 minutes before transferring to a wire rack to cool completely. Enjoy with a glass of cold milk or a cup of steaming hot tea.